Manual Pullers / Automotive Tools
2- and 3-Jaw Transmission Bearing Pullers
Transmission bearing removal takes minutes, not hours when using Posi Lock's TJ-1 or TJ-2 Transmission Bearing pullers. Jaws clamp in snap-ring grooves as narrow as .070 inches to allow removal of front input shaft bearings on 1955-to-present, 3-speed, 4-speed, 5-speed, 3-speed overdrive and 4-speed overdrive manual transmissions on rear wheel drive foreign and domestic cars, trucks, and vans. Other uses: Transfer cases on 4-wheel-drive vehicles, some output shaft bearings and numerous other applications on any vehicle.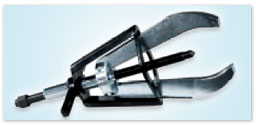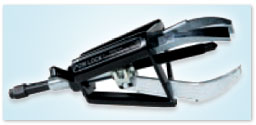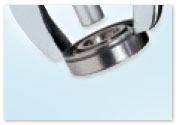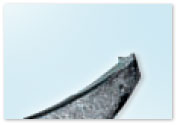 Model
Description
Reach
in. (mm)
Spread
in. (mm)
Weight
lbs. (kg)
Tip
Protector
Optional Accessories
TJ-1
2-Jaw Transmission
Bearing Puller
235 mm
70 to 375 mm
5.4 kg
P10
TJ-1 Bolt Extender
TJ-1 Standard Jaws (optional)
203 mm
19 to 305 mm
TJ-1 Standard Long Jaws (optional)
254 mm
57 to 381 mm
TJ-1 Standard Extra Long Jaws (optional)
406 mm
38 to 559 mm
TJ-2
3-Jaw Transmission
Bearing Puller
133 mm
25 to 171 mm
3.6 kg
P6
TJ-2 Bolt Extender
Slide Rod Adaptor
Slide Rod
2.5 lb. Slide Hammer
5.0 lb. Slide Hammer
TJ-2 Standard Jaws (optional)
152 mm
13 to 178 mm
CH3
The CH3 aids in the removal of harmonic damper pulleys without having to remove the radiator. The compact design allows access in tight, hard-to-reach areas. Saves time and money when working on Chrysler/Dodge/Plymouth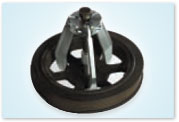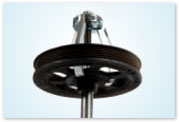 1990-Present
:
Vans with a 3.3L
1993-1997
:
Automobiles with a 3.3L or 3.5L
1994-Present
:
Vans with a 3.8L
1995-Present
:
Automobiles with a 2.0L, 2.4L or 2.5L

Weight : 2.8 lbs.(1.27 kg)
Posi Lock® forged parts carry a lifetime warranty. All other Posi Lock parts and components are guaranteed for one year against defects in materials and workmanship to meet the exacting standards and requirements of professional maintenance. Every product manufactured and/or sold by Posi Lock found to be defective (by the factory) in either material or workmanship, will be repaired or replaced. The foregoing constitutes the only warranty made by the company. Furthermore, any product that has been abused, worn out, heated, ground or otherwise altered, or used for a purpose other than for which it was intended, will not be covered by the guarantee.
NOTICE: Posi Lock reserves the right to make changes in design or construction of tools and equipment without obligation to incorporate such changes in tools and equipment previously sold.
Hub Puller Sets in Carrying Cases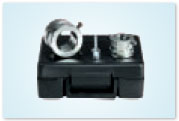 HP-1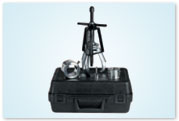 HP-2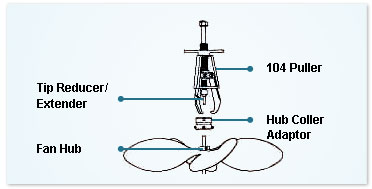 Posi Lock's Hub Puller Adaptors simplify the removal of many industrial and automotive fans and blower wheels by providing a solid connection between the puller and fan hub.
The collar adaptor secures the Model 104 puller to hubs up to 3-inch diameter. Set screws grip the hub to hold and align the collar adaptor. The puller jaws are tightened securely into the hub collar groove, eliminating slippage during fan and blower wheel removal.
Our unique hub collar design allows our general purpose puller to be utilized on the following equipment
Chillers
Freezers
Condensers
Ice Machines
Furnace Fans
Convection Ovens
Ice Cream Machines
Exhaust and Ventilating Fans
Auto/Truck Heater, Defroster, and AC Fans
Plus, much, much, more...
Model
Description
Pullers in Set
Accessories Included
Optional Accessories
Carrying Case
HP-1
Hub Puller Adaptor Set
-
Small Collar Adaptor - HP-30
Large Collar Adaptor - HP-40
Tip Reducer/Extender - HP-70
Extra Large Hub Collar - HP-50
Yes
HP-2
Hub Puller Adaptor Set
104
Small Collar Adaptor - HP-30
Large Collar Adaptor - HP-40
Tip Reducer/Extender - HP-70
Extra Large Hub Collar - HP-50
Yes
CB100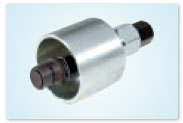 CB100
CB100 quick-release feature
The CB100 was specifi cally designed for removing 504 conveyor-roller bearings without damaging the conveyor roller. The compact design offers a self-locking, self-aligning, quick-release feature. This puller will eliminate the need for many of the more expensive collet-style pullers.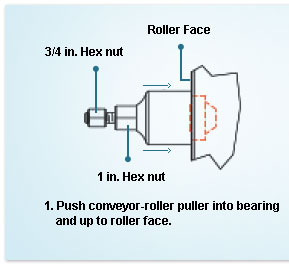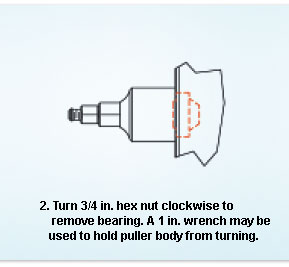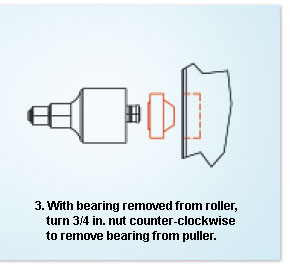 ?