Products / Speciality Tools
Posi Lock Hydraulic Bench Vise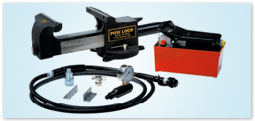 Posi Lock's revolutionary hydraulic bench vise provides 5 TONS of clamping force, plus an air control valve for variable speed and safety. Operated by a 10,000 PSI foot pump in either a horizontal or vertical position, this vise allows you to have two free hands for your project. You can easily complete repetitive, heavy, oversized, awkward or multi-piece jobs. The PHV859A gives you enough power to crush a half-inch nut, yet precisely clamp an egg.
Features and Benefits:
5 tons of clamping power
Hands-free operation with foot pump control
Air control valve for variable speed and added safety
Cast steel construction: 52,600 PSI tensile strength
Operates in vertical and horizontal positions
Jaws are 8 inches wide, and open to 8 inches
Replaceable jaw plates
Hydraulic pressure closes jaws
Spring return opens jaws
Hydraulic Bench Vise includes:
5-ton hydraulic vise
Air-over-hydraulic 10,000 PSI foot pump with air control valve
Optional manual foot pump
10,000 PSI gauge
10-foot hydraulic hose
Set of Posi Lock Hold-Ets magnetic vise clips
HE-3 Hold-Ets Magnetic Vise Clips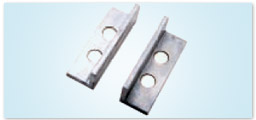 Hold-Ets magnetically hold sockets for assembling and disassembling universal joints and many other jobs.
Our product not only has superior magnetic locking power but also the ability to hold items such as sockets, screws, c-clips, etc., firmly in place, allowing "Free Hands" for clamping the vise.
Features and Benefits:
Holds 5½ pounds vertically and 2¾ pounds horizontally
Makes removal of u-joint a one man operation
Fits all vises
Rigid aluminum construction
Eliminates the need for extra hands
Holds sockets no matter what type of drive
Use as a jaw liner for non-marking material
Holds screws, rings, c-clips, springs and many other shapes and sizes for repair projects
Holds threaded objects rigid without damage to threads
Posi Lock MVP5 Machinist Vise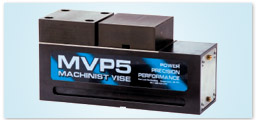 The new design of Posi Lock's MVP5 machinist vise is revolutionary! The vise uses shop air pressure to produce up to 6,000 pounds of clamping force. Its built-in power intensifi er eliminates the need for clumsy and expensive add-on power sources. Setups with the MVP5 are accurate and repeatable within .001 inch. The 90º indexable jaws give users four machinable sides, and are both anti-lift and quick-change in design. Jaw sets are available in aluminum or steel. With the safe, fast and effortless operation of the MVP5, expect to see enhanced efficiencies, productivity and worker satisfaction.
Features and Benefits:
Built-in power source
0-6,000 pounds of clamping force
Self-contained safety relief valve
Completely sealed design
All wear components are hard-coated
Lightweight aluminum design dampens vibrations
Low maintenance
Accurate and repeatable set-ups within .001 inch
Anti-lift jaw design
90º indexable jaws (4 usable sides)
Low-profi le mounts for maximum machinable jaw height
Tested a million-and-a-half cycles
Low maintenance-critical vise components are completely sealed from contaminants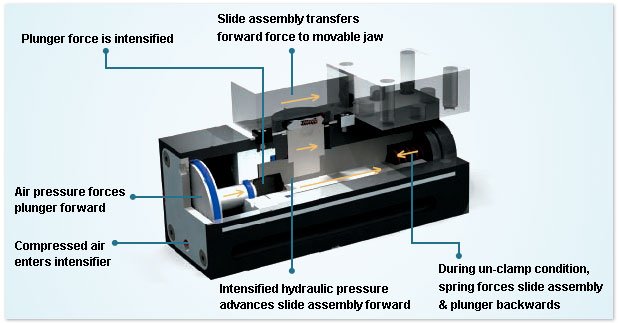 Horizontal Alignment Tool Sets

Portable SIDE ALIGN sets make aligning your motors, pumps, and gear boxes safe, quick and easy. Eliminate the use of jack bolts, frames and heavy hammers to try to move equipment to the tolerances you demand.
All-in-one, go-anywhere portable jack bolt set. Use the smooth power of an eccentric socket to turn rotary motion into controlled, precise linear movement. By rotating the eccentric socket, linear movement is transferred to the motor foot, creating a precise movement to the desired alignment position.
Because aligning rotating machinery is not just about precision measuring, it is also about precision moving, Posi Lock is providing you with our SIDE ALIGN.
If you have precise measuring equipment, let SIDE ALIGN provide you with the ability to make precise horizontal adjustments within .001 or closer.
AT-1104 2-300 HP
Weight
:
12 lbs. (5.5 kg)
Securing bolt sizes
:
13/8 to ¾ in.
(9.4 to 19 mm)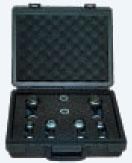 AT-1108 2-300 HP+
Weight
:
32 lbs.(14.5 kg)
Securing bolt sizes
:
3/8 to 1¼ in.
(9.4 to 32 mm)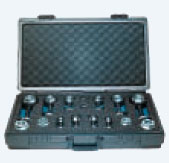 ALIGNMENT TOOL RANGE
Model
Contents
of Set
Actuator
Socket Required
Tool Range
Min.
Tool Range
Max.
ATN-1
2
ES-1
13/16 in.
1 5/8 in.
ATN-2
2
ES-2
7/8 in.
2 in.
ATN-3
2
ES-3, ES-4
7/8 in.
2 5/8 in.
ATN-4
2
ES-5, ES-6
1 1/2 in.
4 1/2 in.
ATN-5
2
ES-7, ES-8
1 7/8 in.
6 1/8 in.
MOTOR APPLICATION RANGE
CONTENTS
HP


AC Motor Frame


DC Motor Frame


Securing Bolt Size


CONTENTS AT-1104


CONTENTS AT-1108


2-30
182-286TS
182A-288A
3/8 -1/2 in.
-
-
20-300
324T-449TS
323A-368A
5/8 -3/4 in.
-
-
300+
5040-505S
403A-448A
7/8 -1 in.
-
-
300+
400M-8211S
503A-688A
1 1/8 -1 1/4 in.
-
-
ECCENTRIC SOCKET SIZES
Model
Contents of Set
Actuator Socket Size
Stud Hole Size
Wrench Size
ES-1
2
9/16 in.
3/8 in.
5/8 in.
ES-2
2
3/4 in.
9/16 in.
7/8 in.
ES-3
2
15/16 in.
5/8 in.
1 1/4 in.
ES-4
2
1 1/8 in.
3/4 in.
1 1/4 in.
ES-5
2
1 5/16 in.
7/8 in.
1 5/8 in.
ES-6
2
1 1/2 in.
1 in.
1 5/8 in.
ES-7
2
1 11/16 in.
1 1/8 in.
2 in.
ES-8
2
1 7/8 in.
1 1/4 in.
2 in.
The companies listed below use Posi Lock alignment tools and undercut bolts
Sprague Paperboard
Nestle Frozen Foods
Illinois Electric
John Deere
PGE
Scott Papers
Hutchinson Tech.
Ford Motor Company
Texaco Refi ning
Amerada Hess Corp.
General Electric
Huneke Associates
Weyerhauser Paper Co.
Proctor and Gamble
Asarco Inc
Midwest Power
International Paper
Fraser Paper
Gaylord Chemical
Champion International
Johnson Controls
Alcoa
Amoco
Westinghouse
Palisades Nuclear Plant
Niagara Mohawk Power Corp.
Mead Corporation
John Hopkins University
Duke Power Co.
Toray
GSA
Franklin Square Hospital
Dow Chemical
Wisconsin Power and Light
Stone Container Corp.
Monsanto
Shell Offshore
Shell Western
Thomas Hill Energy Center
Caterpillar
Armco
Eastman Kodak
Owens Corning
Consumers Energy
Alabama Power
Millstone Nuclear
Power System
Royster-Clark
Entergy-Nuclear NE
Motor Alignment Undercut Bolt Sets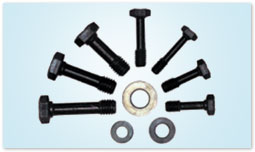 Virtually eliminates the problem of "Bolt Binding." This innovative precision undercut bolt and washer system helps reduce downtime and increase productivity by helping you achieve and maintain perfect alignment faster and easier than ever before.
Features and Benefits:
Hardened, grade-8 bolts
Precisely machined
Maximum clearance
Through-hardened, plated washers
Custom sets available
UB200
Diameters
:
5/16 to ½ in.
(7.9 to 12.7 mm)
Lengths
:
1¼ to 2 in.
(32 to 50.8 mm)
Weight
:
12 lbs.(5.5 kg)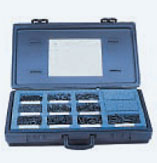 UB300
Diameters
:
9/16 to ¾ in.
(14 to 19mm)
Lengths
:
1½ to 2½ in.
(38 to 63.5 mm)
Weight
:
33 lbs.(15 kg)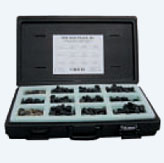 | | | |
| --- | --- | --- |
| P/N | SIZE | DESCRIPTION |
| U1425 | 7/8 in. Dia. x 2-1/2 in. | Undercut Bolt |
| U1427 | 7/8 in. Dia. x 2-3/4 in. | Undercut Bolt |
| U1430 | 7/8 in. Dia. x 3 in. | Undercut Bolt |
| U1625 | 1 in. Dia. x 2-1/2 in. | Undercut Bolt |
| U1627 | 1 in. Dia. x 2-3/4 in. | Undercut Bolt |
| U1630 | 1 in. Dia. x 3 in. | Undercut Bolt |
| U1835 | 1-1/8 in. Dia. x 3-1/2 in. | Undercut Bolt |
| U1840 | 1-1/8 in. Dia. x 4 in. | Undercut Bolt |
| U1845 | 1-1/8 in. Dia. x 4-1/ 2 in. | Undercut Bolt |
| U2035 | 1-1/4 in. Dia. x 3-1/2 in. | Undercut Bolt |
| U2040 | 1-1/4 in. Dia. x 4 in. | Undercut Bolt |
| U2045 | 1-1/4 in. Dia. x 4-1/2 in. | Undercut Bolt |
| UW14 | 7/8 in. Dia. | Hardened Washer |
| UW16 | 1 in. Dia. | Hardened Washer |
| UW18 | 1-1/8 in. Dia. | Hardened Washer |
| UW20 | 1-1/4 in. Dia. | Hardened Washer |
| | | | | |
| --- | --- | --- | --- | --- |
| P/N | SIZE | DESCRIPTION | UB200 QTY | UB300 QTY |
| U5125 | 5/16 in. Dia. x 1-1/4 in. | Undercut Bolt | 12 | - |
| U5150 | 5/16 in. Dia. x 1-1/2 in. | Undercut Bolt | 12 | - |
| U6125 | 3/8 in. Dia. x 1-1/4 in. | Undercut Bolt | 12 | - |
| U6150 | 3/8 in. Dia. x 1-1/2 in. | Undercut Bolt | 12 | - |
| U8150 | 1/2 in. Dia. x 1-1/2 in. | Undercut Bolt | 12 | - |
| U8175 | 1/2 in. Dia. x 1-3/4 in. | Undercut Bolt | 12 | - |
| U8200 | 1/2 in. Dia. x 2 in. | Undercut Bolt | 12 | - |
| U9150 | 9/16 in. Dia. x 1-1/2 in. | Undercut Bolt | - | 12 |
| U9200 | 9/16 in. Dia. x 2 in. | Undercut Bolt | - | 12 |
| U9250 | 9/16 in. Dia. x 2-1/2 in. | Undercut Bolt | - | 12 |
| U1020 | 5/8 in. Dia. x 2 in. | Undercut Bolt | - | 12 |
| U1022 | 5/8 in. Dia. x 2-1/4 in. | Undercut Bolt | - | 12 |
| U1025 | 5/8 in. Dia. x 2-1/2 in. | Undercut Bolt | - | 12 |
| U1220 | 3/4 in. Dia. x 2 in. | Undercut Bolt | - | 12 |
| U1222 | 3/4 in. Dia. x 2-1/4 in. | Undercut Bolt | - | 12 |
| U1225 | 3/4 in. Dia. x 2-1/2 in. | Undercut Bolt | - | 12 |
| UW5 | 5/16 in. Dia. | Hardened Washer | 24 | - |
| UW6 | 3/8 in. Dia. | Hardened Washer | 24 | - |
| UW8 | 1/2 in. Dia. | Hardened Washer | 36 | - |
| UW9 | 9/16 in. Dia. | Hardened Washer | 1 | 36 |
| UW10 | 5/8 in. Dia. | Hardened Washer | - | 36 |
| UW12 | 3/4 in. Dia. | Hardened Washer | - | 36 |